Myeloproliferative Disease
Background
Myeloproliferative diseases (MPDs) are a heterogenous group of disorders characterized by cellular proliferation of one or more hematologic cell lines in the peripheral blood, distinct from acute leukemia.
According to the French-American-British (FAB) classification, chronic myeloproliferative diseases consist of 4 diseases: chronic myelogenous leukemia (CML) shown in the image below; polycythemia vera (PV); essential thrombocythemia (ET); and agnogenic myeloid metaplasia (AMM), which is also known as myelofibrosis (MF). In 2002, the World Health Organization (WHO) proposed an alternate classification schema for these diseases, adding chronic neutrophilic leukemia (CNL) and chronic eosinophilic leukemia (CEL)/hypereosinophilic syndrome (HES).1 For a comparison of these classification systems, see the table below.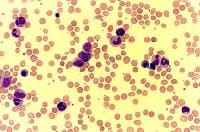 Peripheral smear of a patient with chronic myelogenous leukemia (CML) shows leukocytosis with extreme left shift and basophilia.
A related disorder, systemic mastocytosis (SM), has many features in common with the myeloproliferative diseases and is considered by some authors to belong to this group. In some patients, conditions overlap, and clear categorization may be difficult. Myeloproliferative disease may evolve into one of the other myeloproliferative conditions, transform to acute leukemia, or both.
Table. Comparison of FAB and WHO Classifications of Chronic Myeloproliferative Diseases. (Open Table in a new window)
FAB WHO Chronic myelogenous leukemiaChronic myelogenous leukemiaPolycythemia veraPolycythemia veraEssential thrombocythemiaEssential thrombocythemiaAgnogenic myeloid metaplasia/myelofibrosisChronic idiopathic myelofibrosis…Chronic neutrophilic leukemia…Chronic eosinophilic leukemia/hypereosinophilic syndrome
Some evidence indicates that myeloproliferative diseases arise from malignant transformation of a single stem cell. Involvement of erythropoiesis, neutrophilopoiesis, eosinophilopoiesis, basophilopoiesis, monocytopoiesis, and thrombopoiesis occurs in the chronic phase of chronic myelogenous leukemia. Some evidence also indicates that lymphocytes are derived from primordial malignant cells. This is based on observations that a single isoenzyme for glucose-6-phosphate dehydrogenase (G-6-PD) is present in some T and B lymphocytes in women with chronic myelogenous leukemia who are heterozygous for isoenzymes A and B.
See CME available on Chronic Myeloproliferative Disorders and Advances in the Treatment of Chronic Myeloid Leukemia.
NextPathophysiology
Data from G-6-PD studies, cytogenetic analyses, and molecular methods have established the clonal origin of myeloproliferative diseases; this clonality potentially occurs at different stem cell levels. An attribute common to these disorders appears to be an acquired activating mutation in the gene coding for various tyrosine kinases.
In chronic myelogenous leukemia, the tyrosine kinase activity of the bcr-abl hybrid gene is increased. In polycythemia vera, essential thrombocythemia, and myelofibrosis (see the following images), the prevalent genetic lesion appears to be a valine to phenylalanine substitution at amino acid position 617 (V617F) within the Janus kinase 2 (JAK2) gene.2, 3 This produces hypersensitivity to erythropoietin. At least in myelofibrosis patients the leukemic transformation is probably not related to JAK-2 (V617F) mutation status.4
A study by Anand et al found that JAK2 mutations generate expansion of later myeloid differentiation compartments, in which homozygous expression of the mutation confers an added proliferative advantage at the single-cell level. The findings suggest that JAK2 inhibitors may control myeloproliferation; however, they may have limited efficacy in eradicating leukemic stem cells.5
Systemic mastocytosis has been linked with the D816 mutation of the KIT gene. The FIP1L1-PDGFR mutation has been identified in a subgroup of people with systemic mastocytosis with eosinophilia (SM-eos).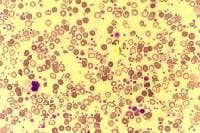 Peripheral smear of a patient with essential thrombocythemia (ET) shows markedly increased number of platelets. Some of the platelets are giant (arrow).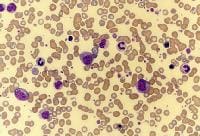 Peripheral smear of a patient with agnogenic myeloid metaplasia (myelofibrosis) shows leukoerythroblastosis. This photomicrograph also shows giant platelets.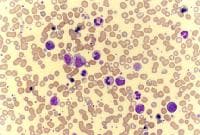 Photomicrograph of a peripheral smear of a patient with agnogenic myeloid metaplasia (myelofibrosis) shows findings of leukoerythroblastosis, giant platelets, and few teardrop cells. PreviousNextEpidemiologyFrequencyUnited States
Approximately 4300 new cases of chronic myelogenous leukemia are diagnosed in the United States every year, accounting for more than half of myeloproliferative disease cases. The incidence of polycythemia vera in the United States is approximately 5-17 cases per 1 million population per year. True incidences of essential thrombocythemia and myelofibrosis are not known because epidemiological studies on these disorders are inadequate.
International
The incidence of polycythemia vera is 0.02-2.8 per 100,000 per year; Japan has the lowest incidence. Essential thrombocythemia has an incidence of 0.1-1.5 per 100,000 per year. Myelofibrosis has an international incidence of 0.4-0.9 per 100,000 per year.
Mortality/Morbidity
In the United States, 2,400 deaths every year are secondary to chronic myelogenous leukemia. Exact mortality and morbidity rates of other myeloproliferative diseases are unknown.
Race
Chronic myelogenous leukemia appears to affect all races with approximately equal frequency. The incidences of polycythemia vera, essential thrombocythemia, and myelofibrosis were tenfold higher among Ashkenazi Jews in northern Israel than in persons of Arabic descent in the region.
Sex
The female-to-male ratio is 1:1.4.
Age
Most cases encountered in clinical practice are in patients aged 40-60 years. Myeloproliferative diseases are uncommon in people younger than 20 years and are rare in childhood.
PreviousProceed to Clinical Presentation